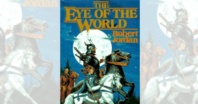 Wheel of Time image courtesy of wikimedia.org [Original story by Tor.com]
Thursday, April 28, was an exciting day for Wheel of Time & Robert Jordan fans.
The late Robert Jordan's fantasy series, Wheel of Time, has been, thus far, forgotten in the rush to procure TV and film properties of the fantasy and sci-fi literary genre. An excellent example is the highly popular Game of Thrones TV series. However, in an announcement late Thursday, Harriet McDougal, wife of the late Jordan, stated that a major studio has acquired the legal rights to the fantasy epic.
This is welcomed news to Wheel of Time fans. There was a moment of excitement last year when Red Eagle Entertainment created a pilot episode called, "Winter Dragon." Unfortunately, Red Eagle Entertainment did not have any legal rights to produce the pilot. Fans can be comforted to know that it was McDougal herself who announced the end to the legal situation and the procurement of the rights to the series. It is unknown who the major studio is, but to be sure they are following all appropriate legal procedures to ensure full, legal TV rights to production.
While there are many excited fans who have been waiting patiently, there are also many who are concerned that the proposed TV series could possibly corrupt the story line and tone of the Wheel of Time series. One such fan, RaySea, commented:
"Part of me is filled with the fanboyish glee one would expect, but another part of me is concerned. Part of what made the books great, in my opinion anyway, was how deeply we were immersed in the characters' minds. Beyond just the occasional thoughts in italics dialogue, the narrative itself was shaped by the focus character's perspective…"
Aside from these concerns, fans should be comforted to know that the Jordan Estate has approved this venture, and to remain patient while the legalities are taken care of.